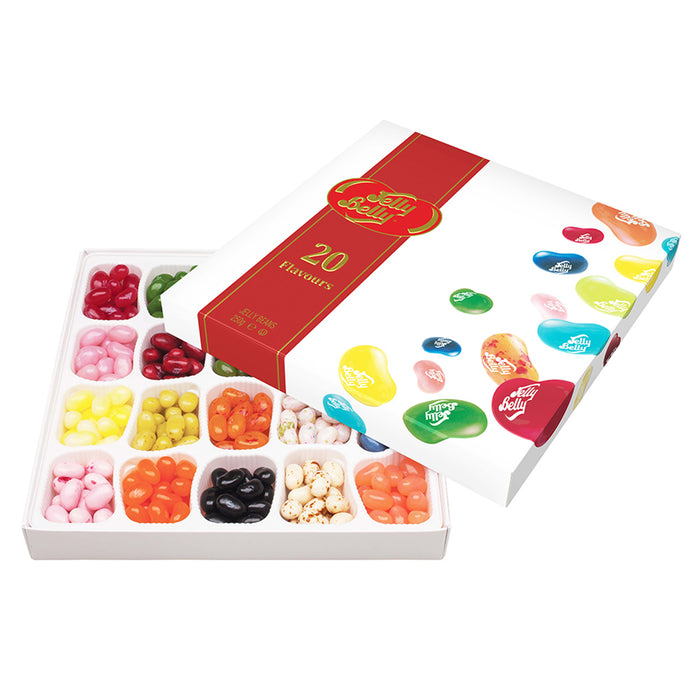 Jelly Belly 20 Flavour Gift Box
Indulge in the world of flavours with the Jelly Belly 20 Flavour Gift Box. This exquisite gift box is filled with 20 mouthwatering Jelly Belly jelly bean flavours, making it a perfect present for any candy lover. From the delightful doughnut-inspired flavours to the timeless Jelly Belly classics, this gift box offers a diverse array of taste sensations that will satisfy even the most discerning palates.
Ingredients
Sugar, glucose syrup, modified cornstarch, acidity regulators (E330, E325, E270, E331), glazing agents (E904, E901, E903), flavourings, blueberry puree, peach puree concentrate, fruit and vegetable concentrates (spirulina, carrot, black currant, apple, pumpkin, hibiscus), apple juice concentrate, lemon puree, pear juice concentrate, strawberry puree, tangerine juice concentrate, watermelon juice concentrate, colours (E172, E150a, E153, E100, E160a, E162), pineapple juice concentrate, cherry juice concentrate, dried coconut powder, lime juice concentrate, salt, tapioca dextrin.
All products may contain traces of nuts (including peanuts), gluten and dairy. Please also note all products are prepared in areas with other products that may contain nuts (including peanuts).